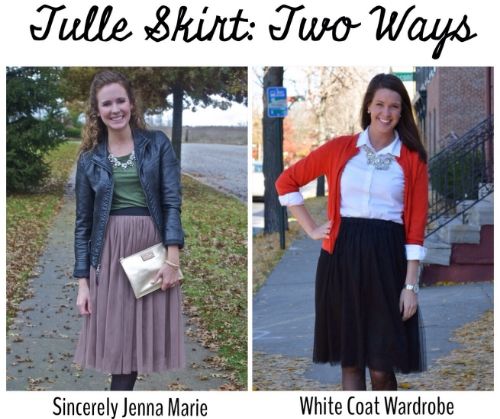 Skirt: c/o Sincerely Jenna Marie
Necklace: eBay
Watch: Fossil
Coat: LOFT
Hey there, fashionistas! I'm happy to be back to blogging today and to be collaborating with the sweet Jenna of
Sincerely Jenna Marie
! Jenna had a giveaway a while back for a collection of fabulous things, the most exciting of which (in my opinion) was this tulle skirt! I had seen Jenna style her own skirt a couple of ways, and I was so excited to learn that I was the lucky winner.
Today, we are each styling our tulle skirts. It is probably (ok, definitely) impractical to wear a tulle skirt to work in my profession, but how fun is this look for the holidays?! The feminine sparkly details span from head to toe with this outfit: my favorite sparkly necklace, the fluffy tulle skirt, and tights with a subtle sparkle. As fun and feminine as this skirt is, the outfit would instantly - and easily! - become more "office appropriate" if I swapped out the tulle for a pencil skirt, which is exactly how I will be dressed for my first day on OB/GYN today.
In addition to the tulle skirt, I had to give this striped trench its own moment as well! Thank you to my friend
Rynetta
for helping this beauty find its way into my closet! This timeless piece is sure to get a lot of wear!! And thank you to
Whitley
for helping me get these gorgeous shots...and for providing an afternoon of laughs! :) Don't forget to hop over to
Jenna's blog
and see how she styled her tulle! Thanks for reading!